---
350ml PET bottle comes from Coca-Cola Japan
---
Topics! Mar.10,1999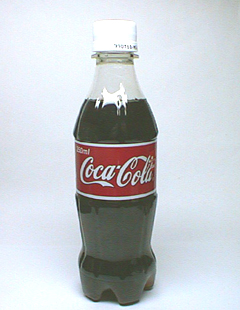 Until April, 1996, PET bottles smaller than 1000ml were not allowed in Japan. But recently near-500ml bottles are becoming very popular because of its convenience and its nice appearance. And finally, Coca-Cola National Sales Japan (CCNS) releases 350ml(12oz) "Pocket-Bottle" on May 1.
Although we have already 500ml PET bottle of coke in Japan, the new product seems to be very nice in size. It was sold in Okinawa since last summer as a test case, and the result would be pretty good, becomes to be sold in whole Japan from this spring. Since this is the first 350ml PET bottle product from CCNS, it comes with the message saying that.
350ml can of coke is sold in 120yen, but this new bottle costs 130yen (just around 1US$). So you have to pay extra 10yen to this handy, re-cappable bottle. In addition, since aluminume cans are more easily recyclable then PET bottles, this new product is not regarded as 'ecological', in some degree.
(Shinsuke Nakamoto)
---
[The Cola Encyclopedia] [HELP]
Copyright (C) 1997-2000 Shinsuke Nakamoto, Ichiro Nakahashi.