---
Diet Coca-Cola now available in Japan
---
Topics! Jul.6,1999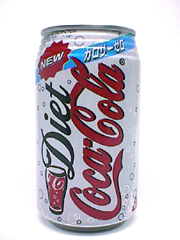 Coca-Cola National Sales Co. Ltd.(JAPAN) determined to introduce Diet Coca-Cola in Japan and they started to sell in Aichi(Nagoya), Mie and Gifu in advance. "Diet Coke" is a Coca-Cola's brand for non-calorie used aspartame(w/ acesulfame in Europe) as a sweetener. Though it is sold in many countries, we didn't have one named "Diet Coke".
In 1984 first non-calorie cola was introduced by the Coca-Cola Company in Japan. This was called "Coca-Cola light", considering that Japanese then had bad, unhealthy images for the word "DIET". Unfortunately this artificially sweetened cola was not accepted to Japanese consumers, so they added fructose and renewed it as "Low Calorie Cola"(12kcal/100mg). Since then the domestic diet-cola market was quite a monopoly of DIET PEPSI.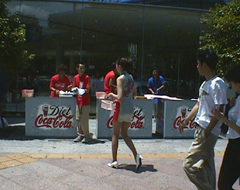 In commemoration of this, on-the-street events are held in Nagoya. Campaign girl in a sexy costume(just like one of Budweiser! the logo was Diet Coke, though) handed out free 150ml Diet Coca-Cola to passersby around Sakae station. In addition, they're going to have "Dance Event" in front of Nanachan Ningyo(I don't know where the hell it is) in July,24th.
Coke's participation in non-calorie beverage market would be a great menace to his rival. Diet Coke vs. Diet PEPSI, hot summer has just started in Japan.
References
(Shinsuke Nakamoto)
---
[The Cola Encyclopedia] [HELP]
Copyright (C) 1997-2000 Shinsuke Nakamoto, Ichiro Nakahashi.