Coffee met Cola in Japan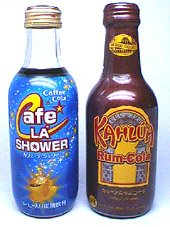 UCC and Suntory put novel coffee-colas on the Japanese beverage market in May.
"Cafe LA SHOWER", UCC's coffee-cola started marketing in May 15th, is one of the most exciting cola newcomer in 2001. UCC is Japan's leading company in coffee market (UCC stands for Ueshima Coffee Corp.) and also know as the local distributor of Jolt Cola in Japan. It is priced 130 yen in 195ml bottle and available in convenience stores in Tokyo, Nagoya and Osaka.
Suntory's new product "KAHLUA Ram-Cola" is exactly what the name means. It is the pre-mixed alcohol drink with Mexican coffee require "KAHLUA" , Ram and cola. It's very difficult to imagine what the taste would like, but according to their site it "sounds strange, but good". Suntory is also known as the local distributor of PEPSI cola.
These products introduced the concept of "Coffee Cola" in Japan for the first time. We hope these challenging colas to survive the Japanese severe pop market.
(Shin Nakamoto)